Using Social Media to Spread Happiness
You don't need a large following when using social media to spread happiness. Sure there are some people who have influence on Instagram, Facebook, Twitter and You Tube but your social media can be effective in spreading happiness to your followers.
" We put out the video and Boom – it was no longer my song" Pharell Williams speaks to Oprah about what happened when his song "Happy" touched the hearts of people globally. The tears of joy pour down his face as he watches people globally take his words on happiness and make it their own. One song brought happiness to millions.
With over 519,000,000 views the lives he has touched with just one song shows us how we can use our voice and power of social media to create happiness all over the world. But you don't have to be Pharell to make this happen. You can be anyone with a goal to touch just 1.
Our TEDx Talk is great example of this goal. We want to touch one – inspire just one person to give and the ripple that was create completely unexceptionably has made an impact that will reach further than we will ever be able to track with numbers. I was just a Mom and 365give was a small local Canadian charity that wanted to make a little difference in the world – help create a happier world.  Almost 3.7 million views on just one social media video.
Spreading happiness using social media is easy, it's fun and most of all it will increase your own personal happiness. Each post you create has the ability to touch hundreds of millions because you just never know how far your reach will go. The possibilities are endless.
Social Media Reach (and these aren't all of them!)
Facebook 2.23 billion
YouTube 1.9 billion
Instagram 1.06 billion
TicTock 500 million
Twitter 335 million
LinkedIn 294 million
Take a look at just a few of the people on social media that are making a big impact by creating videos and post around their 365give's.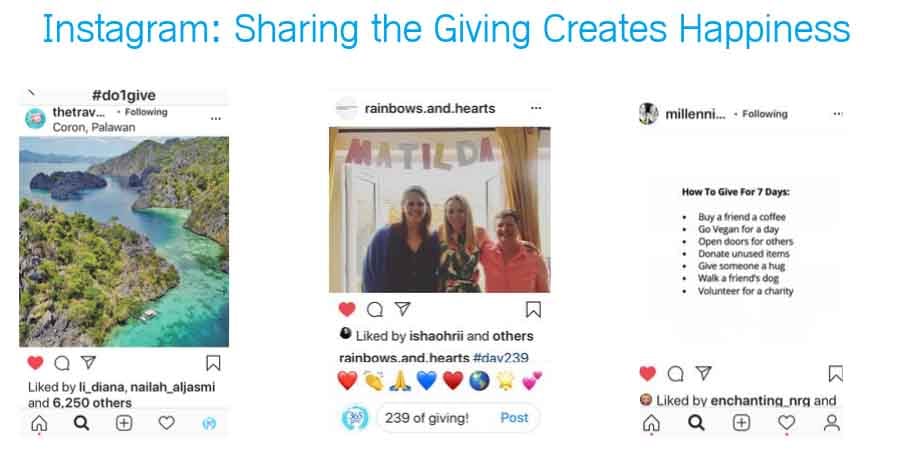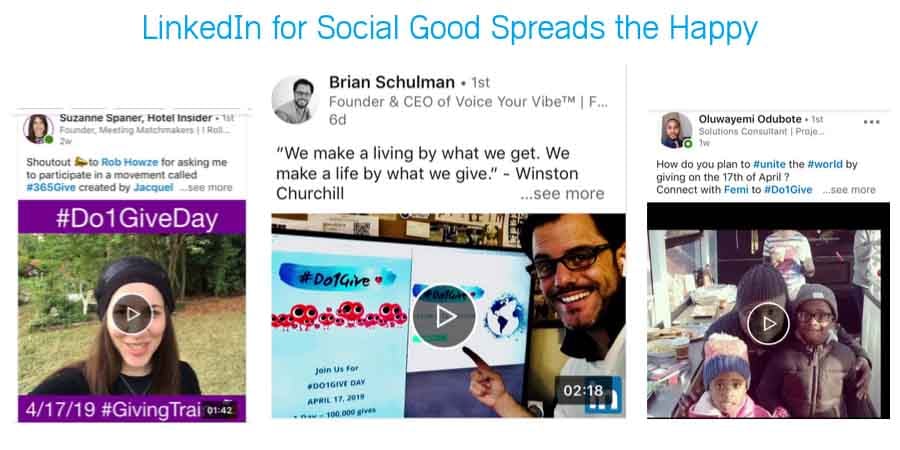 If you want to make an impact on the world start using your social space to create positive posts that will lift others. Share your stories on how you give with a simple goal – to touch 1. It can be every day or once a week but show up with a simple mission just like we do – to change the world 1 day at a time.
3 Ways to Spread Happiness on Social Media Today!
1) Selfie Smile: If you like posting selfies post a big smile and give it to everyone with a positive message.
2) Positive Quotes: We all love a beautiful uplifting quote that help us reflect on life. Here's one to get you started "We make a living by what we get, we make a life by what we give" Winston Churchill
3) Do Your 365give: Take a picture or make a video how share how you give! It's how it all start for us. Tag us @3655give #365give #Do1Give and encourage your friends to do the same.
Together we can change the stories on social to make social – good.
Follow us on Instagram @365give.ca Facebook @365give YouTube @365give and my personal Linkedin account Jacqueline Way