Get your daily DOSE of happiness
Did you know that giving issupposed to feel good?
It's true! It's your human nature! When you give, your brain and the rest of your body are powerfully affected. Scientists have named this feeling the "Helper's High," and we call it getting your daily DOSE of happiness every day.
Here's how it works: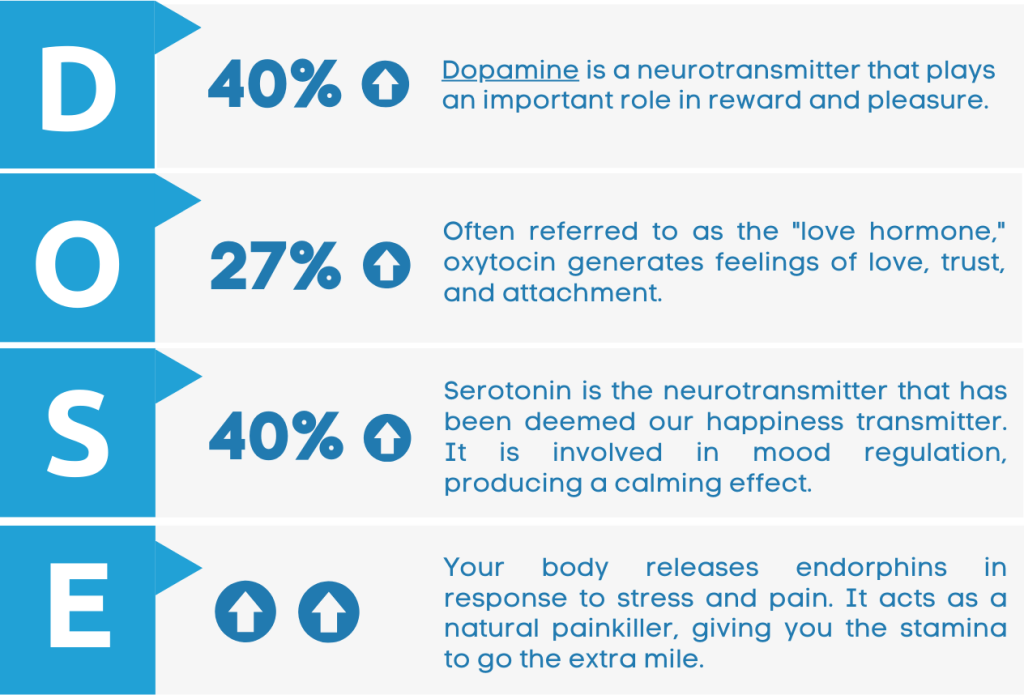 Dopamine
This neurotransmitter plays an important role in reward and pleasure. When you have a pleasurable experience – like that first cup of coffee in the morning or the unexpected sight of a loved one – your brain releases dopamine, contributing to feelings of happiness and well-being.
Oxytocin
Often referred to as the "love hormone," oxytocin generates feelings of love, trust, and attachment. That's because human beings are wired for love, from the neurons in our brains to the touch receptors in our skin. Studies show that this hormone increases social connection and reduces stress and anxiety.
Serotonin
This neurotransmitter is involved in mood regulation, producing a calming effect. Serotonin is released when you have pleasurable experiences, like volunteering at a shelter or helping your neighbour. And when we are happy, we spread that happiness to everyone around us, creating a happier world for everyone!
Endorphins
Your body releases endorphins in response to stress and pain. These chemicals act as natural painkillers, giving you the stamina to go the extra mile. Endorphins are on full display whenever you see everyday heroes risking fires and storms to save other people and animals.
When you give every day, you're also getting your daily DOSE of happiness.  And here's the wonderful secret: the happier you are, the more you give. It's a wonderful cycle that creates ripples of goodness that benefit everyone around you.
The science of giving teaches us that every single person is the greatest untapped resource for positive change in our world.
Let that knowledge inspire and empower you to start your daily giving practice today!
What scientists say about 365give
"Want to have a great life while making the world a better place? 365give wants that for you too – and they're not just sitting around hoping it'll happen!
Giving directly and profoundly benefits the giver's physical, mental, and emotional health through the release of endogenous chemicals that improve a broad range of functions, including mood, motivation, memory, learning, sleep, digestion, and blood pressure.
This heart-centered, world-conscious non-profit organization is making it easy for anyone. 365give practices what they preach 365 days of the year, contributing to a happier, healthier world for everyone with every act of giving."
– Dr. Rowshanak Hashemiyoon
Behavioural, Computational, Clinical Neuroscientist / Advisory Board 365give
"365give is a tribute to the human heart at its ultimate best. It is vital that 365give continues to serve as a culturally transformative pillar of inspiration and education, helping us all overcome obstacles to kindness.
Simple acts of kindness can transform us emotionally. It is said that if you do not feel happy, smile anyway, and happiness will follow. Emotions follow actions just as actions follow emotions. Just the act of giving will create feelings of kindness and joy, and slow those parts of brain circuitry that are associated with hostility, bitterness and rumination. The happier we are, the more we give. And the more we give, the happier we are."
– Dr. Stephen Post
Director and Founder of the Center for Medical Humanities, Compassionate Care—Stony Brook University / Best Selling Author / Advisory Board 365give
How we do it
If we want to overcome the world's greatest challenges, we all need to take action. That's a daunting thought! The good news is that big things start with small steps. Our programs are built around a framework that "TIE"s it all together for you.
Teach
Give other people ideas they may not have considered
Model positive behaviour for everyone
Show others how happy you become when you give
Demonstrate the impact of ordinary, everyday goodness
Inspire
Create a culture of kindness and generosity
Encourage others to become everyday heroes like you
Forge strong bonds with your community
Feel good! (because inspiration is giving, too)
Empower
Make giving possible for everyone around the world
Put the power of change into everyone's hands
Celebrate cultural difference and similarities
Become a powerful force for good
Want to be a powerful force for good? You don't have to be a superhero or wear a red cape. You don't even need a big bank account. All it takes is one small act of giving, one day at a time.
We would love to help you start your daily giving habit today!