Spread Happiness & Joy During #COVID-19
We get it. Finding happiness & joy during #COVID-19 is tough. Listening to the news, listening to how our friends feel, reading social media and digging into the facts makes it hard to stay positive. But people do find happiness & joy during this time by reaching out virtually to their friends, family and strangers. People are digging deep to find ways to help others without having physical contact.
There are kind, generous small acts of giving happening all over the world. I saw a video this morning shot in Italy where a personal trainer hosted a lock down work out in his apartment complex. As he stood alone in the court yard people came onto their balconies and joined in on the work out, no touching, no human contact, but a lot of happiness & joy.
So how can you participate in this worldwide giving party? How can you virtually participate in spreading happiness & joy during #COVID-19? How can we support the most vulnerable people who at the most risk?
Send A Virtual Hug To Family and Friends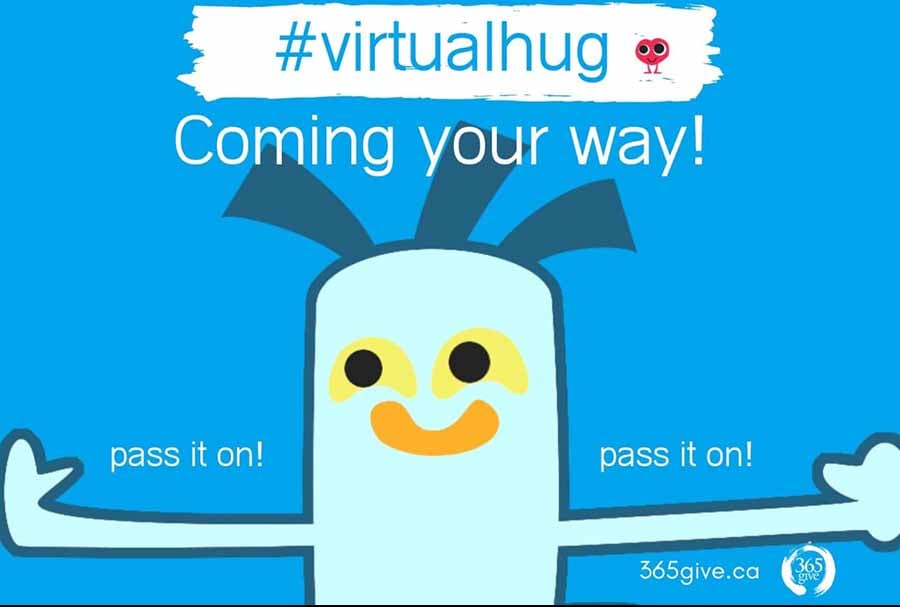 Use your mobile devices and social media accounts to send a virtual hug coupon to friends, family and strangers. With social distancing in place, we won't be hugging each other any time soon. Sending a virtual hug makes us feel supported, seen, and remembered. This is a great way to reach out to our friends during this time. Use the image above to send a virtual hug now. Download it to your computer. 
Share Your Favorite Song or Video With Others
Do you have a song that just makes you want to dance? Do you know of a song that makes someone's foot tap? Share the video with friends and family so they can feel the joy. My sisters father in law loves Frank Sinatra. At 100 years old he still smiles when he hears any of his songs. When she calls him she puts one of the Frank songs he loves and they both sing it together over the phone! Find creative ways to share your favorite song with someone. It could make a big difference to their day and will be a profoundly amazing give! Now how easy is that!
Send A 'Thinking of You' Message
Sometimes there is nothing we can say to make things better. Sometimes it is just best not to bring up the hurt, fear or reality of a situation. Many of us dont reach out to others as we don't know what to say. But a simple 'I am thinking of you' text can spread happiness & joy. You can send a video message or text. Who ever receives the message will feel better, they will. If you are not sure what to say just a simple 'Thinking of You' can be enough, and a small act of giving that can change someone's day.
Send a Virtual Smile To Your Social Media Friends
This is a great way to make light of our current situations. Yes you can FaceTime, Video Chat or send a photo of you smiling, but why not just post a virtual smile on your social media account. Smile, It's Contagious, is sure to get a smile from others and they will pass it on! Sometimes we need to lighten the mood with a good play on words like this one! Download this image and use on social media
Virtual Giving Spreads Happiness & Joy During #COVID-19
While we are physically stopping the spread of #COVID-19 we can virtually spread happiness and joy to our friends, families and strangers. Life does not have to stop, we just have to be more creative in how we create a life through this crisis. People will appreciate the relief from the news, the worry and uncertainty of this situation. Small acts of giving make a difference when our lives are 'normal'. Completing them during a time of crisis and uncertainty make them even more powerful in spreading happiness and joy.
Want to continue giving? Check out our COVID-19 virtual giving page to inspire more virtual giving ideas or better yet, become a 365give member with our free membership. Sign up and keep giving after COVID-19 is removed from our lives.