How to Start a Reverse Advent Calendar at Home
Get ready for the 365give reverse advent calendar (RAC) at home! It's almost December, which for some of us may mean the beginning of advent. Perhaps you have observed the advent days leading up to December 25th, or Christmas Day before, with an advent calendar that reveals chocolates, or small gifts each day. This year why not flip the script and try a reverse advent calendar. Make your December less about what you will get and more about what you can give. You may reflect on how this makes you feel at the end of the month.
So What Is A Reverse Advent Calendar?
Many local food banks have started a reverse advent calendar for the month of December, each day marking a food donation. For example Monday 6th – can of beans, Tuesday 7th – cans of tuna. This gives donors giving ideas for each day of December while encouraging how we can do for others, rather than receiving for ourselves.
At 365give we started our first Reverse Advent Calendar in 2016 and have never looked back. Being one of the first to introduce this De ember giving concept, it made sense for our mission as we are all about focusing on what we can do for others. Doing a  reverse advent calendar is a perfect idea for a family giving idea where kids could learn a new habit and fill their December with gratitude and joy. We are so happy to see many people, families, schools and other organizations take on this giving idea over the holidays!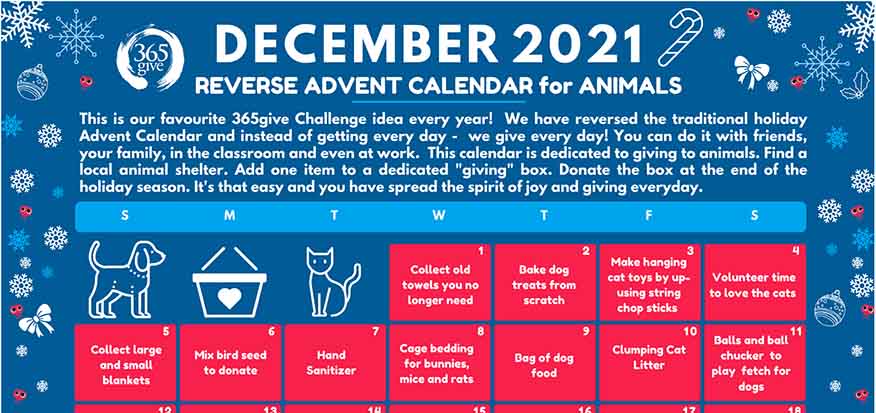 Where Do I Start My Reverse Advent Calendar at Home?
We have made it easy for you this year with a few 365give Reverse Advent Calendar tools. Download our blank Reverse Advent Calendar and start filling in the days. If you want something even simpler, use your calendar app on your phone, tablet or computer and add daily reminders.
If you want a family project that focuses on a particular giving group, animals, people or the planet, we have already created Reverse Advent calendars for each group. Download the animal RAC, download the people RAC, or download the planet focused RAC. Our volunteers have worked hard on these and we think they hit it out of the ball park.
If you are feeling super creative and want to put your own stamp on your calendar, make your own. Using decorative papers, stickers and coloured pens go to town on your personalized calendar. Fill in each day with a giving suggestion, and start putting your gives together. Some people also like to decorate a donation box that will hold your gives if you choose to accumulate donations and deliver them to someone or an organization just before Christmas. The box is a great way you can see how your progress is going. It also makes a great donation to whoever you deliver it to on December 24th.
Hang you calendar on the fridge so everyone can see your progress, and participate each day.
What Sorts of Things Should I Be Giving Each Day?
Your calendar will have 24 days worth of ideas to fill. Local charities may have lists of donations that they are in need of, so you could start your research there, but you needn't give away your own things, or spend money on each day. Get creative with things you can give or do for others that don't cost anything. Our Reverse Advent Calendars have easy suggestions for your daily gives, so take your pick. Use your own idea or use one of ours. It is up to you.
For example, one day try smiling at every person you see. If you can chat to someone, even better. Make that your 'People Give' day. One day you could give festive baked goods to work or school friends, or share with neighbours.
A day could involve giving your time to help another person, whether it's volunteering for a shelter, cooking a meal for an elderly neighbour or relative, or gifting a friend a night off from looking after their kids. The possibilities to help others are endless!
Have fun with your giving in December. If you need some further inspiration – you're in the right place; 365give has pages of gifting ideas for helping people, animals and the planet. Our free Reverse Advent Calendars make giving easy, fun to explore and even more fun to complete. Enjoy your giving this month! Read some of our previous articles about Reverse Advent Calendars.