Being On The Receiving End of Giving – I Am Now Committed To Give Every Day
This is a guest post from Joanne Toma who went through the destruction of the California fires this year. Her story is unique as she was not giving but receiving during this terrible time. She is convinced through others kindness that she will start to give every day. She lost her entire house. The actions of others, who gave her so much, has now made her committed to giving, one give, one day at a time. Woo hoo for those who give every day!
One of the hardest parts about losing my home to the recent California wildfires was suddenly having so many offers for aid.  Please don't misunderstand—of course I'm terribly grateful for the gobs of support practically shoved in my face.  Friends, colleagues, acquaintances, and even complete strangers went out of their way to be there for my family and me.  When they first offered me help, I responded in my usual way: "Thank you, but I'll be fine. A lot of people have it much worse."  My family did, after all, have income and assets.  And maybe it wasn't the greatest coverage, but our house was insured.  We would get by.
But when people really want to give, they don't take excuses for an answer.  They kept offering, kept asking, "Do you need clothes?" "Could you use cash or gift cards?" "What about a place to stay?"  They let me know that, yes, others may have it worse than us, but our situation was no party.  We had lost our home and everything in it.  On top of that, the experience had been traumatic.  It was a lot to deal with, they said.  We would benefit from assistance.  They also shared that giving profits the giver.  I heard, "It feels good to give," over and over again.  One friend even threatened, "I might actually be angry with you if you slept in your car instead of staying at my place.  Please don't do that."
So awkwardly, painfully, I accepted "gives."  I was on the other side of the screen now.  You know, when you watch coverage of a disaster from the safe side of your monitor?  Those affected are somewhere distant, and it all seems unreal.  The emotions you witness from your living room can almost look like bad acting, just because they're so far from your own reality.  Still, if you are a giver, you may be moved to send in a check, donate blood, or scour your closet for goods to spare.  You may grow more interested in the region where the shit went down and become a supporter of their cause.  And my friends were right, it feels awesome to do that.  Giving, I know that I am in a position of abundance.  I can help.  My actions are lifting someone up.
But what about when you're on the other side of giving?  Although I'm extremely appreciative of all who reached out, honestly, it hasn't been a pleasant feeling for me to "need" or accept generosity.  It felt like I was not in a position of abundance.  My acceptance, it seemed, was depriving another who may have stronger needs than myself.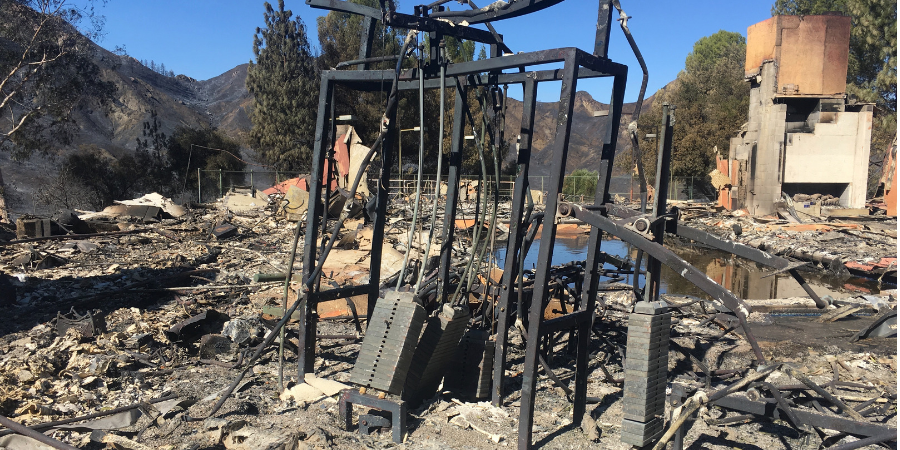 Accepting others' aid humbled me to my core, almost as if the fire that took my house also burned part of my insides.  Those inner walls that protected me from external opinions were crumbling into ash.  See, I also tended to feel a strong aversion for inconveniencing anyone, or to risk being a "user."  It's like in that Elliott Smith song, "I don't take things just because I can."  What I'm learning, though, is that sometimes it's okay to accept serious help.  That doesn't mean it's easy to do so.  Having your walls burn can hurt like hell.
So yes, the fire charred my habit of isolating myself by not accepting kindness.  And indeed, that destruction is a gift, too.  Now I feel closer to the very friends and strangers who lifted up my family and me.  Sown deep in my heart is a quiet indebtedness to them and respect for their capacity to share their hearts and homes.  Now, too, my own passion to give is inflamed.  I realize how much I have received, and that no matter where or who you are, you are not safe from need.  Especially today, as perils from the climate crisis hasten across our beautiful planet.  Even our earth is in dire need.  I share its pain along with the suffering of others; I receive its gifts along with the gifts of others. And I am committed to giving back and will give every day.
Start To Give Every Day
It is stories like these that get people to start giving. If you are ready to start your own giving journey with simple, easy effective gives, sign up for your membership at 365give and find out how to give every day in ways that make a difference.