A True Story That Proves Kindness and Giving Spreads Across Communities
I know that giving spreads across communities when someone gives. But sometimes we need proof, real time proof that our giving spreads to others when we take the time to give. I recently read the powerful story behind the Leap for Literacy Organization that operates out of Peachtree City, Georgia in the United States. Stan Tucker, the brain behind Leap for Literacy and the Read and Roll Program, was taught by his dad to be kind and give to others. Be kind and give to people in your neighbourhood, at school, people you don't even know. What Stan also witnessed was others giving to him, community minded mentors who filled a void in his life when his father passed away.
The kindness shown to Stan and how he felt when he also was kind, was pivotal in his creation of Leap for Literacy, a literacy program designed for at risk kids who would otherwise not have access to books. Through a book donation program, Stan developed an interesting way to encourage kids to be kind, compassionate and show empathy in return for books! All kids have to do is complete one act of kindness to earn a kindness ticket. The kindness ticket can be traded for one of Stan's books in his mobile library. How great is that?
Seeing Giving In Action Makes More Giving Happen
One of the participants, Jaxon, said this about the program. ""Stan teaches me how to be kind, especially when no one else is watching. It's important to be kind because other people, if you are kind to them, they will be kind back." Being present when we are giving, knowing that we are being kind, giving to others, and showing compassion to people, is one of the most important lessons we can teach our children. Kindness and giving for its own sake.
Stan decided to make kindness his currency for books so that kids could see how kindness works. He also wanted to solve a deep rooted issue in at risk communities that are known for having literacy issues. In a research study conducted with at-risk youth, researchers measured risk factors in relation to reading proficiency by the eighth grade and determined that 37% of students with one risk factor scored at a basic reading level.  When you increased to two risk factors the percent of students reading on a basic level in 8th grade jumped to 42% (Green, 1995). His plan has worked and kids are reading, being kind, understanding the power of giving and also writing their own stories through his summer reading program. It is a win-win situation all around.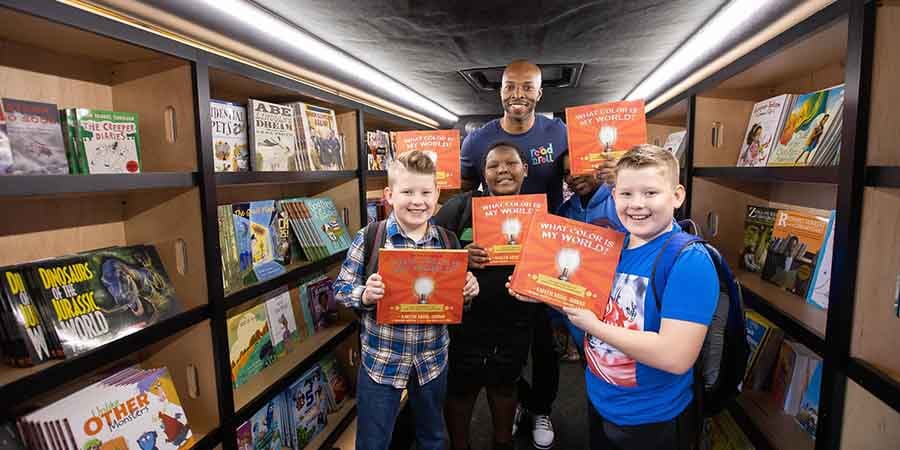 Combining Two Important Lessons – Reading and Giving
To date, Stan's program, which began in 2015, has given away 2,500 books a year. More than 13,000 grade school students have traded kindness tickets for books. And, last summer, a new writing program served 500 children, a handful of whose writing the nonprofit has illustrated and published. Stan hopes to reach 1 million acts of kindness for 1 million books and reach not just a local audience but a global audience. Through his summer writing program he also hopes to take those books written by the kids and have them as a part of his mobile library so kids can learn from other kids. Fantastic.
Give to Stan Tuckers Program To Keep Kids Giving!
Teachers are great at bringing giving into our classrooms, but there is something to be said about our community also supporting that mission. Can we ever get tired learning about the positive influence of giving? Can we ever say enough about how important it is to give? I don't think so. Stan is always looking for books, donations for books, and people who can support his mission. We love what he is doing, and applaud his giving in the Atlanta community. Lets start his global dream and give to his organization this week! Donate on his website, give his program a shout out on social media, send Stan a note of gratitude or send his student participants a letter of gratitude.
If giving is new to you or if you want to boost your daily happiness by giving every day, check out the 365give Challenge, an easy way to make giving a daily habit. When you start giving, you will witness how giving spreads rapidly to others and our communities.