Virtual Giving For Remote Workers – Stay Healthy and Happy
You have been given a new work order -work from home as we ride out #COVID-19. Working remotely can be a challenge. Many of us thrive on the noise of productivity in our office. Many of us maintain 8 hours energy from the energy in the office. Remote working may or may not be for you, but it is the safest way to do our jobs right now, the safest. So how do we make this all work and keeping ourselves happy, healthy and productive? Well if you were doing one small act of giving in your old routine, you know it does all of this. Giving while you work remotely will maintain this sense of well-being, we just have to look at it differently.
If you are new to small acts of giving, this is the best time to start building a giving routine. Giving at work takes just a few minutes, sometimes it is seconds. You will feel happier, healthier and more productive once it is done. These virtual gives can help you while you work remotely! You don't need to be in your work environment to complete or continue your daily giving. You can give remotely!
Have an Online Coffee Break!
Use any video chat app on your phone, desktop or tablet. We all need a break and it is great to share it with someone. Set a time with a friend who is also working remotely or a colleague. Get your coffee ready and give them a call. Chat about your day, your family, how you are feeling. Use this time how you normally would at the local coffee shop or work cafeteria.
Help Other Co-workers When They Need It
Working at home does not mean isolating yourself from other co-workers. If you have a chat line with your colleagues, what's app or other ways to communicate remotely to people you work with, led a hand and help a co-worker who needs help with a project. Collaborate online and help them work through what they are struggling with. Cooperation is as easy online as it is offline in the office. Screen sharing abilities make it even easier! People may be struggling with added responsibilities at home taking care of children off school or are care givers for their aging parents. This additional stress might make regular work tasks for deadlines hard.
Listen To A Co-Worker – Virtual Giving For Remote Workers
Sometimes we just need someone to listen. Whether it be a work related stress, an challenge to adapt to the new work reality or some issues at home, listening can help someone dump their struggles and move on. Listen through an online telephone app or video chat so they can move forward and onward!
Put a Plant in Your New Work Space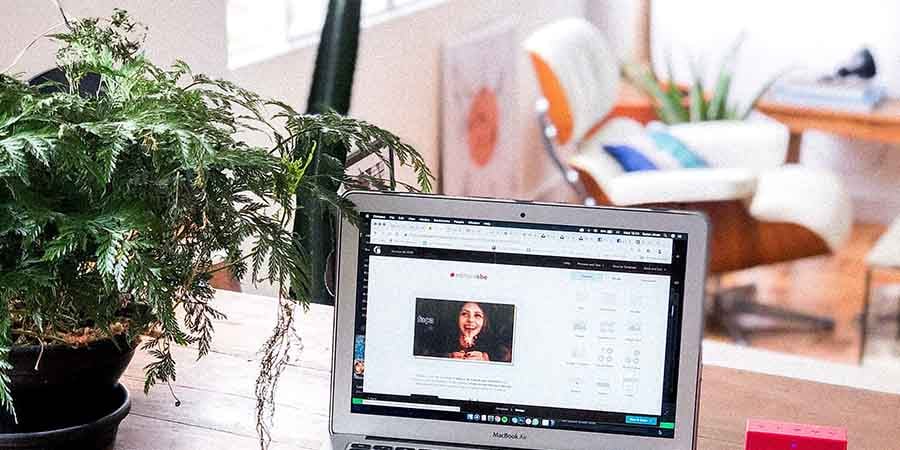 This planet give is a great way to make your new work space feel inviting. Add a plant, herb or flower to your work space to make it feel comforting.
A number of studies have been conducted that indicate indoor plants can reduce stress levels in work environments. Washington State University researchers found that study participants' blood pressure levels were lower when plants were present in the interior. Study participants also reported feeling more attentive in the room containing plants. Multiple other studies have produced evidence that stress levels are reduced by the presence of plants and even improve productivity among office workers.
Having a plant in your work space will also help to improve air quality. With all the disinfectants we need to use this will improve your indoor air space.
Virtual Water Cooler Break – Virtual Giving For Remote Workers
A lot of our work actually happens at the water cooler. You bump into a co-worker, exchange information, find out information or just say hi. Send out a message during the day to a group of colleagues announcing a virtual water cooler break. Get everyone on the same chat app or video call and take a 10 minute break. This will make all of you feel better, makes you step away from your current task and just focus on something else for a bit. When we are feeling isolated at home, this is a great way to feel connected!
Be Grateful Every Day For Your Remote Office
Working remotely is hard. For the millions of people that do it on a regular basis we have built, over time, ways to stay productive, happy and healthy as we work from home. #COVID-19 has forced thousands of people into a work situation they are not ready for, nor have they had time to prepare for this change. It may feel frustrating at first, you will have new challenges that did not exist before. More importantly the isolation, if you are not used to it, does take time to put strategies in place to decrease the feeling. Take these virtual giving to heart and try a few. You will feel happier, and you will share that happiness with others.
Looking for more virtually giving ideas while we live through #COVID-19? Sign up for a free 365give membership to unlock more virtual giving ideas that will support you through this time.