Teaching Giving In The Classroom With A Reverse Advent Calendar
Looking for unique and fun ways to teaching giving in your classroom? The countdown to the holiday season has arrived and creates a great opportunity to teach giving in your classroom! Children are making their wish list of what they want to "get" but what about their list of what they will "give" this year. The needs in our world are big at every turn. We can all do something to bring a smile to the world around us and be the change we want to see in the world.
We have a great idea for teachers this holiday day season that will engage children in a Global Citizenship project and strengthen their Social Emotional Learning development.
It's based on the traditional Advent Calendar but reversed. Instead of getting something each day the students take turns giving something each day. They can choose to give to people, animals, or the planet. Getting started with a Reverse Advent Calendar is as easy as 1,2,3.
Step 1 – Choose How the Students Would Like to Give
Have a class discussion around giving, compassion and kindness. Talk about different ways you could create positive change in our world this holidays season. Empower your students to choose how they want to give. Spend some time researching and sharing ideas that are relevant to where you live in the world. Have the students collaborate to discuss ideas and share with the class. Find out what really matters to your students. We have a few ideas to get everyone going.
People Give Reverse Advent Calendar
Sock / Hat / Gloves Drive for the Homeless
Adopt-A-Family for Christmas (google search your local area)
Holiday Cards for Seniors
Download A Reverse Advent Calendar that focuses on People Gives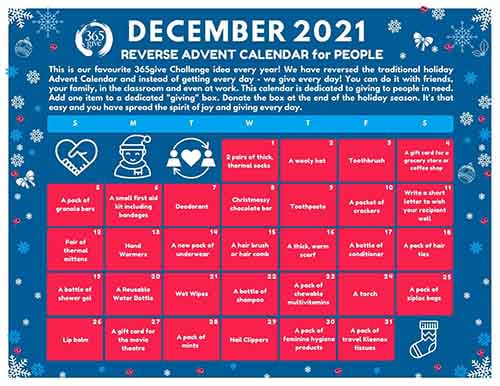 Animal Give Reverse Advent Calendar
A Box of donated items for a Animal Shelter
Make Bird Feeders
Adopt an Animal with Earth Rangers (https://www.theearthrangersshop.com/collections/wildlife-adoptions/adoption)
Download a Reverse Advent Calendar that focuses on Animal Gives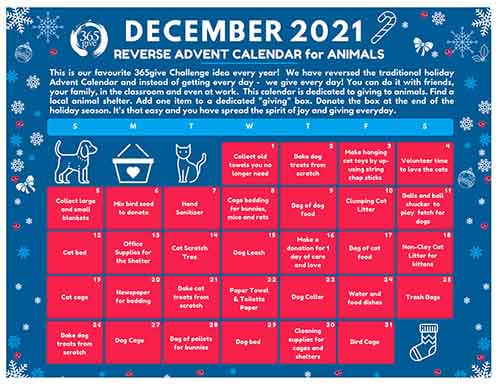 Planet Give Reverse Advent Calendar
Make eco holiday gifts for a family member
Decorate plain brown craft paper to make holiday wrapping paper
Commit to one small act of giving to the planet every day (see our calendar ideas for the planet)
Download a Reverse Advent Calendar that focuses on Planet Gives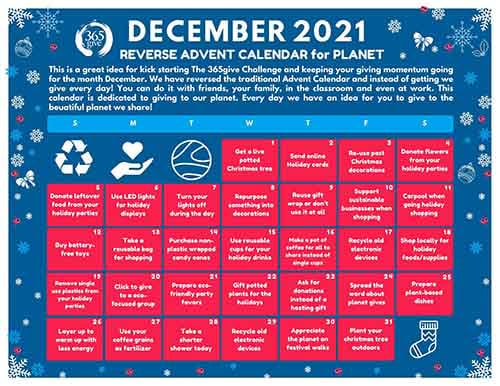 Step 2 – Create a Schedule and Visual Plan
Download our blank Reverse Advent Calendar and make a plan who will give each day. You may need to change dates based on the number of students and your classrooms holiday schedule.
You may want to make a dedicated box or a creative display for your classroom or the whole school. If creating your own giving suggestions is too much for your class, just download one of our completed Reverse Advent Calendars!
Download A Blank Reverse Advent Calendar and start adding your gives!
Step 3 – Watch the Happiness Grow
This is a great time for teachers to do an emotional check in and reflection with your students. Emotional learning takes time and reinforcement. We know giving and teaching giving to our students makes us all feel happier and helping students become aware of their feelings will help grow the happiness every day in the classroom.
How did the giving make them feel?
What collective impact did they make on the world?
How did they make others feel?
Cultivating a daily habit of giving in the classroom by teaching giving is a great way to end 2021 and start a new giving habit for the New Year. Growing the good in the classroom with also grow happy, compassionate, and cooperative students that care about each other and their community. What a wonderful gift for the world!
Join us in 2022 as a classroom with your free 365give classroom membership. Giving isn't just for the holidays season but every day of the year.