7 Surprising Valentine's Day Ideas to Spread Love and Help the Planet
We all know that Valentine's Day is a wonderful time to show our love and appreciation to the special people in our lives by making a special dinner, sending a heartwarming card, or simply spending real time together. But what if we decide to change what we give and what we do? Instead of paper cards and chocolate, how about giving show our love by helping the planet?
Have you ever thought of the many of the things we do for Valentine's Day that actually harm the planet?
Millions of cards and branded gifts, such as mugs and teddies are exchanged globally on Valentine's Day. The emphasis on increased consumerism all take a negative toll on our planet, from poor labour practices to create inexpensive products, to transportation pollution from the delivery of millions of products, and deforestation to create all that paper.
But if we think about it, we can still celebrate Valentine's Day in a more environmentally conscious way. With a little bit of work, we can make small changes like shopping locally, putting together a fun experience in your local neighbourhood, or making your own cards, using newspaper or the back side of office paper. You could even donate to an environmental cause. All of this could help cut down on the damage to the planet.
Does Valentine's Day Come from Love?
Well, yes, but not in the sense we think. As far as we know, February 14 is known as Valentine's Day, because that's the day that recognized three saints named Valentine who were martyred.  The fact of the Saints being martyred is believed to be an act of love. Another story tells is about the actions of one of the St. Valentine's when he befriended the jailer's daughter.  When he went to his death, he left a note saying "From Your Valentine," which some think was the beginning of the Valentine exchange. This is why people all over the world exchange valentine cards with friends, family and loves ones on February 14. You can read more on the origins of Valentine's day here.
Valentine's Day started as a special day to celebrate the love between two people and has expanded to mean showing love to children, friends and family.
Here are some simple ideas to make this a planet-friendly day:
Cook a romantic dinner at home. Try something new and make it extra special by adding a few romantic touches, like setting the table with rose petals.
Make a heartfelt gift. Show your love with a handmade gift, like a scrapbook of your favorite memories together or a picture frame with a heartfelt quote.
Spend the day outdoors. Take a romantic hike or plan a picnic in the park. Enjoy the fresh air and the beauty of nature together.
Share the love. Give out compliments and smiles all day.
Snuggle on the couch, watch a romantic movie, or play board games.
7 Valentine's Day Ideas That Go One Step Further:
If you want to go further to show your love for the environment, here are some ideas. Remember, deeds that involve or influence others are often the ones that are remembered the longest. Here are 7 Valentine's Day ideas to help the planet:
On Valentine's Day, attach a big red heart on trees in the park or in your yard, that says: "Every tree needs love".  Start a "plant a tree" day in your neighbourhood or support organizations that already do.
Make cloth valentines to give out to people to pin on their reusable bags. It's best if you can cut up some old material you already own.
If you can afford it, give out reusable bags along with hearts.
On Valentine's Day start an "I love my park" movement to pick up litter. Hand out chocolate hearts to all those who participate.
If you can't donate to a cause, promote that charity on social media with heart emojis.
Candles create a romantic atmosphere, so Valentine's Day is a great day to turn off the lights. You might get to love it, while saving energy at the same time.
Be mindful of your water usage – shower with those you love.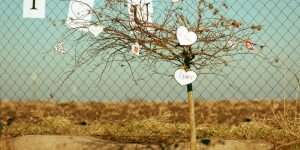 No matter what you choose, remember that the best Valentine is the one that comes from the heart. Spread the love this Valentine's day helping the planet and help make more happiness in this world.
Find more ideas for helping the planet, visit our blogs on giving ideas for the planet at 365give.ca and start your giving journey today.
Happy Valentine's Day!