5 Easy Steps to Creating a Reverse Advent Calendar
In many places around the world holiday traditions start as early as December 1 with an Advent Calendar. Each day is counted down as Christmas Day approaches. Every morning people wake in anticipation of receiving a sweet treat or small gift for each day that passes.
This year we are starting a new tradition "The 365give Reverse Advent Calendar."
It's so simple a 3-year-old can do it and takes just a few minutes to jump start your daily giving habit for the holidays.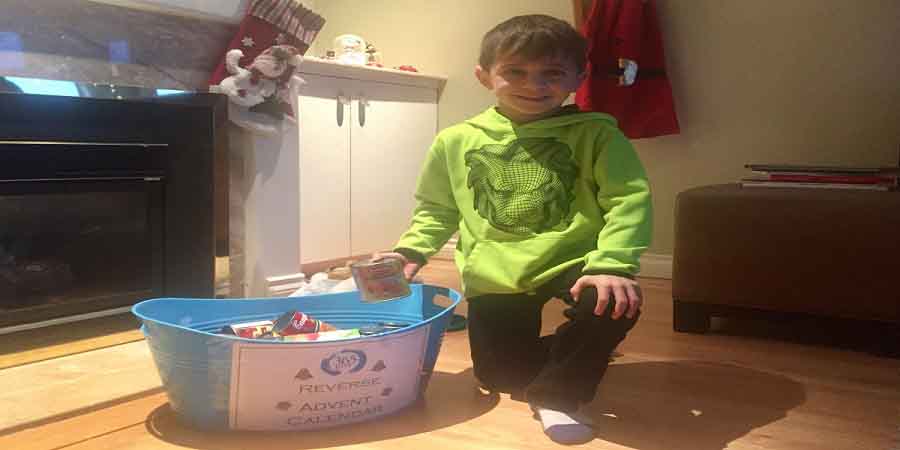 Creating A 365give Advent Calendar Is As Easy As 1-2-3-4-5
Step 1. Choose a charity that supports people in need over the holidays or plan to make a personal delivery to someone on the street. We chose the Harvest Project
Step 2.  Reuse a box or basket to hold the items you will give. Decorate it ready for the holidays!
Step 3. Plan you daily gives – all 25! Keep it simple: Socks, hats, gloves, toothpaste, toothbrush, nonperishable food items. If you have everything handy it makes your daily giving easy.
Step 4. Add 1 item to your basket each day before Christmas
Step 5. Delivery your box to your charity of choice or directly to a person in need on December 25th.
It's that easy. At the end of your 25 days, you will have a full box to give and a heart filled with happiness knowing you made a difference this holiday season.
Giving Every Day Makes You Happy! It's True
Giving every day, not just during the holidays makes all of us happy. Check out the 365give Challenge and start giving every day! You feel happier, healthier and part of your community. Schools love this Challenge for their students, clubs embrace these acts of giving at their meetings. As a individual, you too can make a difference by giving every day!