From Giving to Innovation – How This Daily Giver Is Saving Bees
Are you a daily giver? Do you look for ways to give back every day with small acts of giving that change the world. Giving can lead to incredible ideas and this story shows innovation. This passion project started by a small group of like minded people has turned into Bee – Innovation. We all know there is a bee population problem, and we love people who design cool things to save the bees. Saving bees is a winning give, it helps animals (the bees) our planet and people. We love this story that started as a give and turned into true innovation that will help to save the bees.
One Problem Facing Our Bees
There is a long list of reasons why bee populations are declining, but one issue is distance. Bees are having to travel further to pollinate plants. Pollen is also their energy source. If we continue to cover cities and homes in concrete bees do have to travel further to do their job. But do they have enough energy to travel that far? Researchers are saying in some parts of the world, no. Bees are dying from exhaustion, not just pollutants, and pesticides. Their travel time to work, aka flowers and open spaces, has increased so much they are literally dying of exhaustion. They have no where to refuel when they travel these distances and in turn just stop flying. Imagine if your commute to work increased ten fold and there were no restaurants, no gas stations to refuel, no drinking water. You too would just whither away and stop.
We Can Help The Bees With Places To Refuel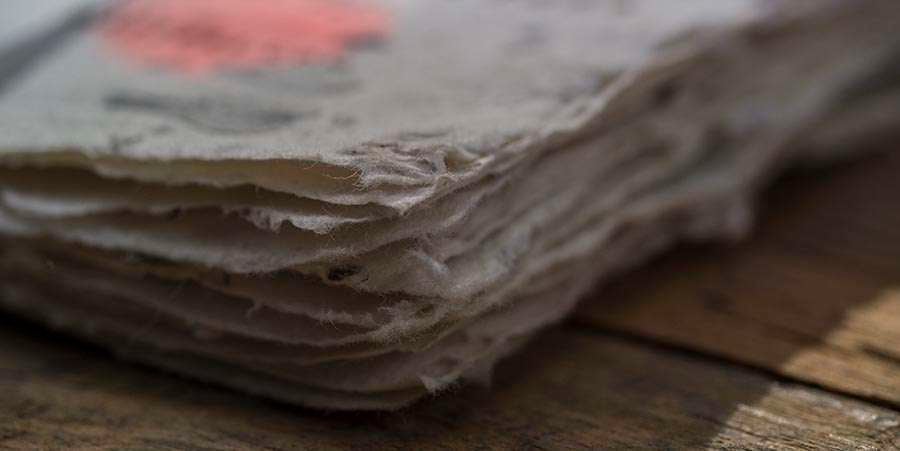 Here comes the innovation. I doubt people will tear up cities to make way for plants that help the bees. That is a long road that might come too late. Creating bee refueling stations would also take money and more money. There is a faster and easier solution created by paper craftswoman Malgorzata Lasocka, owner of Manufaktura Papieru Czerpanego w Kobylce in Poland, and four former creatives at advertising agency Saatchi & Saatchi. They have created bee paper, a natural paper made energy-rich glucose, the same product used by beekeepers to feed bees over the winter.
After a few dead ends when creating the paper, this team actually found the right mix that will sustain bees as they travel. The paper is not sticky, naturally decomposes in the environment with one sheet of paper feeding thousands of bees, thousands. They even included a way to make the paper inviting for bees so they will stop and use the glucose on their rest stop. Incredible.
Once they created this paper, they discovered the paper could used for every day items like egg cartons, paper plates, take out containers and more. When people threw out their empty containers the paper would attract bees and feed them on their commute to the next flower.
They added one more enhancement to the paper which makes this product dreamy. Included in the production of the biodegradable paper is bee friendly seeds. When the paper is thrown away and goes to land fill it releases the seeds that produce bee friendly plants.
This is how giving can create innovation in the world. What started out as a way to give back to the planet turned into a way to save the bees in three creative and sustainable ways! Why cant more start ups begin and sustain themselves like this? We love this.
Here's Your Daily Give For The Day
Giving can turn into something bigger than ourselves. I have to say giving for me has turned into something bigger than myself, or my family. The same can be said for this group of individuals who have innovated their give into something so much bigger than themselves. Check out their website Bee Saving Paper and make your give today a comment, like or follow on their Instagram account. 
Post your daily give on our Global Impact map once you sign up for free account at 365give. Start giving every day to change the world, one give, one day at a time.