The Power of Giving Love Every Day of the Year
It would be so easy for each of us to look at into the world today with little to no hope at times for a bright future. We can choose to see the doom and gloom, or we could choose to see a world of possibility.  Every day I make that choice for myself – for my family, my community, and the world. I choose to add love and light to the world every day. We all hold the power to give love every day of the year.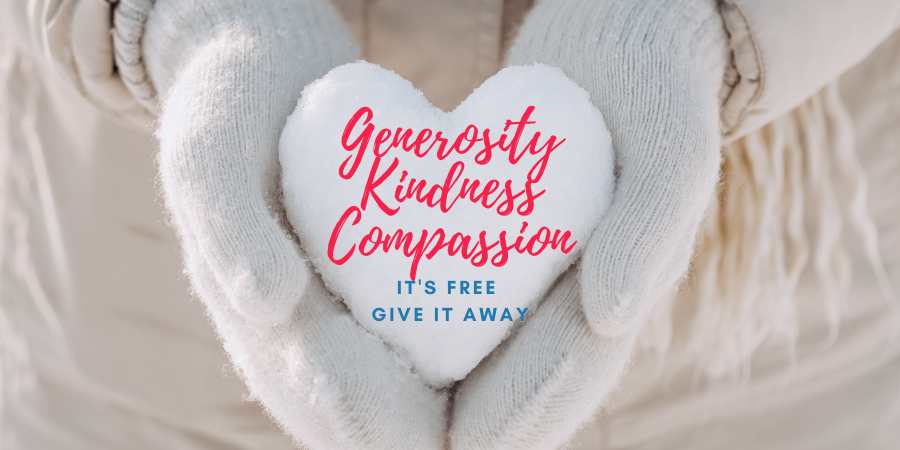 The Power of Giving Love 365 Days of the Year
Is generosity, giving and compassion every day even possible? The answer is yes – when we start small. We make it a practice and intention in our lives, and we look for the opportunity to give. Where our attention goes our energy flows. If you look for the good, look for the opportunity to do good – it will show up for you. Think of your brain as a computer. We need to program our brains every day until it becomes an automatic practice. This is my own reminder or "mantra"  I start and end the day with everyday.
Today I choose to make the world brighter by giving back to person, animal, or our planet.
Today I choose to add purpose and meaning to my life and those I touch.
Today I am grateful knowing the world is a little better place because I was here.
Sounds a little "corny" but it's become my daily practice for the sole purpose of creating a happier, healthier me and a happier healthier world for everyone. This is what I have learned about giving every day.
The Ripple Effect
Giving increases my mental and physical health.
Generosity increases my well-being adding purpose and meaning to my life.
Compassion, kindness, and gratitude increase my person happiness with effects everyone around me.
All this reduces my stress and is truly a prescription for a good life. Even on the dark days we just need to keep shining our light. Every act of get light the path for everyone around us. Every act of generosity, every hand of giving, every step into compassion and understanding creates the ripples.
Over a decade ago I wrote these blog post when I started 365give with my son. I'm not sure anyone ever ready them but today 365give has become a global giving movement that has touched millions of lives. All I did was set an intention and I chose to give every day. That intention continues to ripple every day even while I'm sleeping. Here are a few posts I wrote all the years ago that are just as relevant today. Giving never goes out of style.
What I didn't realize then, that I know now, is the true power of giving. It is the common thread that runs through us all.
Love
Giving is love in action. It's that simple. Even the smallest action releases oxytocin – our love hormone – and gets the love flowing through our bodies. But more than that it's the intention with each action. We take the love from our hearts put it into our hands and give it away freely.
We all have a never-ending supply of love. It's free to give and cost us nothing, yet changes everything.
From our hearts to yours – we wish you a holiday season filled with giving love every day. What we give freely flows right back to us. Give with all your heart this holiday season. The happiness, joy and peace will flow to you.
We invite you to give to 365give as your year end act of giving. Every dollar donated will be doubled by the generosity of the West Vancouver Foundation. Every dollar donated will help us do the hard work 365 days of the year. We teach, inspire and educate the hearts and minds of people to give every day.
With your support we will create a happier, healthier world.
Visit 365give to learn more.