Shout Out To Nurses and Healthcare Workers!
Lets continue to give a shout out to nurses and healthcare workers. Tuesday May 11th is International Nurses Day! 2020 is the International Year of the Nurse, as per the World Health Organization (WHO), to honor the 200th birthday of modern nursing founder Florence Nightingale. We celebrate International Nurses Day every year, but this year we need to do a better job! With COVID-19 consuming our lives, and healthcare workers, doctors and nurses being our heroes during the virus, being creative in how we honor the people and the professional just became really, really important.
The Power of Health Workers – WHO video Highlighting Our Healthcare Workers!
We know healthcare workers are amazing. But watch this video to see them in action. This does not reflect the incredible acts that healthcare workers are doing right now, during COVID-19, but it gives you a glimpse into their daily lives, their empathy for people, and how they care for people all over the world. We would be lost with out them.
Now lets see how people are celebrating, supporting, caring for, and cheering on the heroes of COVID-19. This rally around healthcare workers started in Italy and has become a worldwide movement of kindness and giving. There are people bringing free meals to healthcare facilities to show their support for our healthcare workers. People are cheering every day from their homes and balconies at 7 pm to show appreciation for the risks our healthcare workers are during COVID-19. Musicians around the world are giving free concerts online to show how much they appreciate and are rallying behind all healthcare workers.
New York Public Appreciation for Healthcare Workers
The clapping resonates around this city each day at 7 pm. From the west side to the east side, all the way down to battery Park, people are clapping for healthcare workers.
Balcony Signs To Show Support For Healthcare Workers
This is a staple now in Italy. People are hanging huge signs off their balconies in solidarity for their healthcare workers. You too can do the same at your house! It means the world to our healthcare workers when they see these visible signs of support!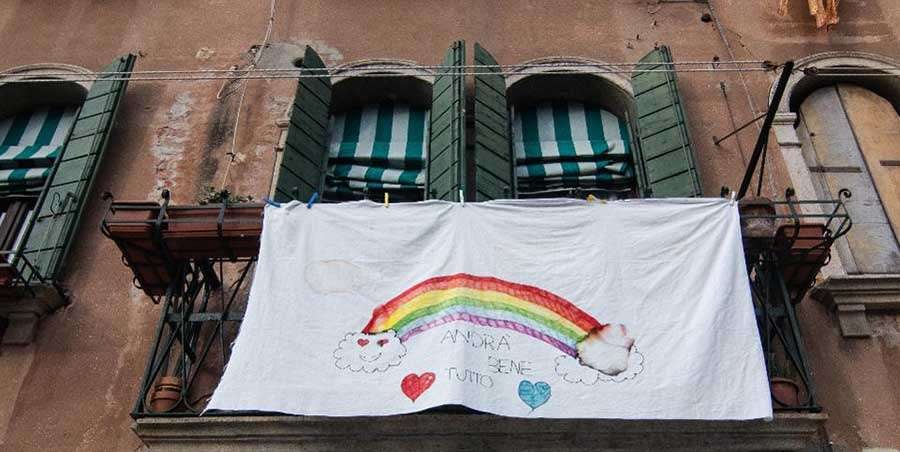 Apricot Ribbon Campaign For Nurses
Lexington Kentucky has started an Apricot Ribbon Campaign to show support for their nurses and healthcare workers. We have pink ribbons to fight cancer, we have purple ribbons to support Alzheimer. The apricot ribbon campaign is a great way to show support for healthcare workers! Hang one on your balcony, front door, a lamp post or front yard tree!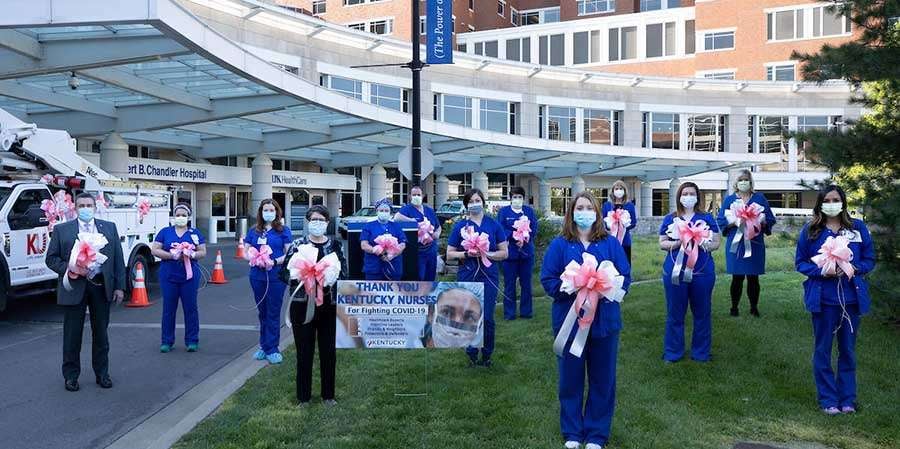 Ongoing Corporate Support for Health Care Workers
We have just highlighted one sign that was put up by the Disney Store, but there are lots of billboards, store signage and tech boards that are showing support for our healthcare workers. Lets do more it! Skip your advertising and use that space to give a big huge shout out and thanks to our health care workers! If you are looking fora  great workplace give this would be a good one!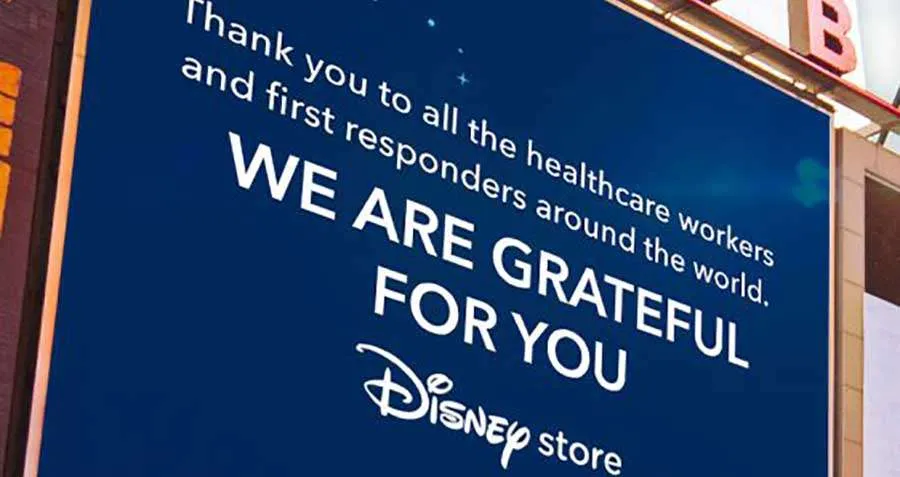 One World Together At Home Online Concert
This historic digital and broadcast event curated by Lady Gaga was a way to unite the world and celebrate the COVID-19 frontline workers. If you watched this event the week of April 14th, you were spreading the love to our healthcare workers! Canada featured Canadian artists for their digital event on April 14th and the US featured so many local US artists on April 18th. Listen to the music on Spotify. It was a great way to honor our healthcare workers worldwide.
Lets Support Our Nurses and Healthcare Workers!
All of these international ideas can be done at home. Sure if you are not an internationally acclaimed musician you can still sing a song for health care workers and post it online! Normally on International Nurses Day we challenge people to send in letters of thanks, notes of gratitude, or drop off some cookies to a local clinic or hospital. COVID-19 is making these gives impossible, so a little creativity is needed.
Use social media to thank your local hospital for the work they are doing! Just tag the hospital in your post and say thank you!
Make a poster and put it in your window, on your balcony, or front yard show health care workers you are thankful for their service
Get your community together and order a meal from a local take out restaurant for healthcare workers. If everyone pitches in $10, this could be one of the greatest gives for these hereos.
Put an apricot ribbon on your house, on the street, in your front yard to show support for healthcare workers.
Donate to a local GOFUNDME campaign that is designated for your community healthcare workers!
Find more COVID-19 daily giving ideas as you shelter in place and wait for this virus to go away! We all might be here for awhile, so why not use this time to bring joy and happiness to yourself, to others and the world, while we wait for this virus to be over.