#NationalCancerDay Gives! Bring Happiness To Those Fighting Cancer
#NationalCancerDay is February 4th.  Many of us, if not most of us, have know of someone close to us that has gone through cancer treatment. Though research has progressed, we have not yet found the cure for cancer. Fingers crossed one day that dream comes true! In the meantime, giving to someone we know, or perhaps don't know, who is being treated for cancer is a great way to give! I even make sure that I give to my friends who are in remission, or who are supporting a family member who is going through cancer treatments.
6 Giving Ideas for #NationalCancerDay!
In the past year we have had two dear friends fighting cancer. We made a point to give to both the families and our friends directly as they struggled through treatment and recovery. Treatment is tough, and it takes a toll on both caregivers and the patient. These giving ideas are simple, easy gives that supported our friends during a challenging time. You too can use these giving ideas to support someone you know, or even someone you don't know directly. These gives can make a huge difference in the lives of those who are going through the trajectory of this disease.
Send Messages of Support for Your Give
I have found text or voice messages to be a great way to support a family and friend who is going through cancer treatments. This allows all parties to see the message when they are not busy or read the messages when they have some time. Cancer treatment takes a lot of time and energy so letting people pick up messages when it is convenient for them is the best way to support! I have also found emojis in your test message to be a great way to emphasize your support!
Cook A Favorite Meal or Snack
Cravings change during cancer treatments. Sometimes there is no appetite and sometimes there can be incredible cravings. On the flipside, family members who are caring for someone going through cancer treatments would welcome a homecooked meal that relieves them from having to cook! Ask the patient what they may like to eat or ask the family what would be a good meal for them. A meal you cook yourself can show how much you are thinking  and supporting your friends.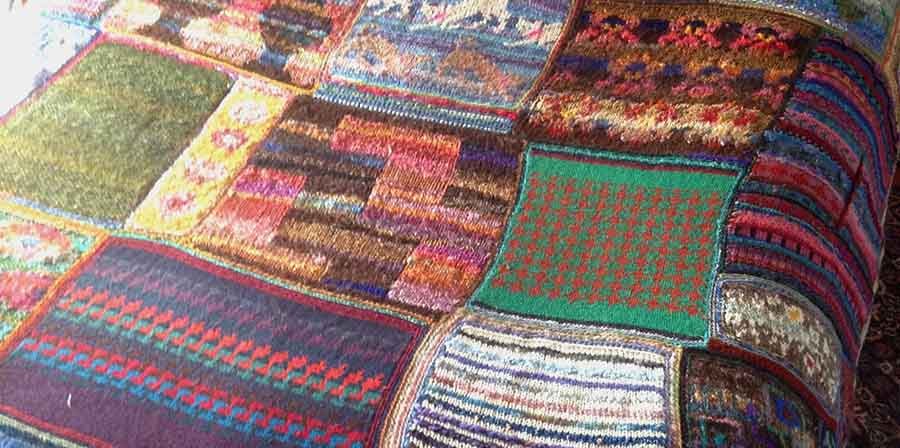 Make a Knitted Blanket With Friends
I love this idea and have completed one of these blankets myself with a large group of friends. As patients go through their treatments, they become more sensitive to cool temperatures and get colder faster! With a group of friends, knit a square and join them together to make a shawl or blanket. Each person can put their energy, love and support into the squares. The final product embraces the patient in a big blanket hug when they need it! Make the squares as big or as small as you like!
Have A Video Chat With Your Friend or Family Members
To protect the health of a person who is going through cancer treatments, have a video chat! This is as good as a visit and protects the immune system of the person having treatment. If you want to reach out to others, there are online volunteer opportunities where you can Check In and Chat with those who are isolated and a lack of support. This UK website has a few opportunities like these.
Volunteer As A Driver For Appointments
So many patients need a ride to their appointments. This is a great way to reach out to people you dont know or you can offer to drive a friend or family member to their appointment. Look online for volunteer driving opportunities so you can continue to support those in isolation.
Lend A Listening Ear For #NationalCancerDay
I have to say this might be the best give you can do on #NationalCancerDay. Listening is a skill and can help not only cancer patients but anyone who needs a bit of support. Just listen either on the phone, video or in person.
#NationalCancerDay is a good reminder that we need to include these gives through the year to friend, families and community members who are going through cancer treatments. It makes a big difference in their lives and makes their treatment a little bit easier. Your give can make a hard day a bit easier!
Remember those who administer the treatments in local clinics and hospitals. A give to doctors, nurses and personal support workers makes your #NationalCancerDay gives complete! Drop off thank you cards or some baked goods to a local cancer ward and see the smiles with the caregivers who makes wellness possible!
Check out more people gives you can put on your weekly giving list, a great strategy to remind yourself to give every day.