How Your Generosity on GivingTuesday will Change the World
"Everyone has something to give and every act of generosity counts" GivingTuesday
GivingTuesday can change the world – here at 365give, we so agree! Every act of giving, generosity and kindness moves us to a happier, healthier world. GivingTuesday reimagines a world built upon shared humanity and generosity. They have coined the term "radical generosity." If we all practiced "radical generosity" for just one day – we would change everything!

What is GivingTuesday?
GivingTuesday is a global generosity movement that unleashes the power of radical generosity around the world.
GivingTuesday was created in 2012 as a simple idea: a day that encourages people to do good. Since then, this idea has grown into a global movement that inspires hundreds of millions of people to give, collaborate, and celebrate generosity.
GivingTuesday strives to build a world in which the catalytic power of generosity is at the heart of the society we build together, unlocking dignity, opportunity, and equity around the globe.
GivingTuesday's global network collaborates year-round to inspire generosity around the world, with a common mission to build a world where generosity is part of everyday life.
Why Will Generosity Change the World?
We are often asked "how can one person change the world?" It's simple math.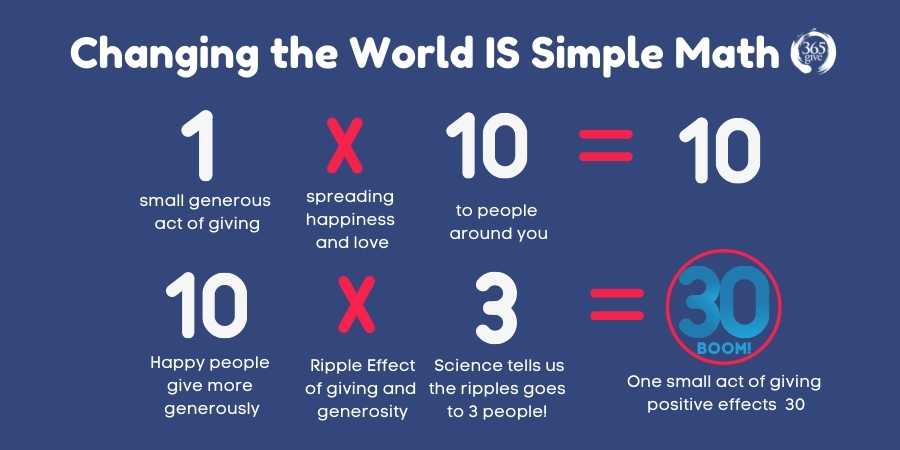 When you give you are a happier, healthier person. Your generous action changed whatever you touched (people, animals or the planet). Your personal happiness from giving ripples to your family, friends and beyond. Now you have changed not only yourself but everyone around you. The world will never be the same. The ripples of happiness and love keep spreading. Science proves it even affects the magnetic field of the planet! How cool is that?! Multiply the energetic power of doing good by 7 billion people and BOOM! Together we have changed everything IN JUST ONE DAY! Giving is really that simple.

How Can I Participate in GivingTuesday?
There are hundreds of ways to demonstrate your generosity by participating in GivingTuesday. Here at 365give, we will send an idea right into your in box 365 days of the year. Get started today as your first step to "radical generosity" every day of the year by signing up here.
It's not just about money, (every dollar does make a difference) it's the heart behind your giving. Here are some ideas for your own GivingTuesday campaign:
Give kindness to neighbours – make cookies, have a street party, bring in their garbage bins.
Volunteer virtually or share your talents with a charity just like ours! We need all the help we can get!
Give your voice to a cause that matters to you or sign a petition. Your voice counts!
Show gratitude to healthcare workers, service providers, and other essential workers who are making sure we still have the services we rely on, even at risk to their own health.
Start a local fundraiser, community drive or coordinated event to join others in your area or with your same interests in giving back — the more the merrier!
Spread the message on social media about giving and generosity using the hashtag #GivingTuesday #365give
Our #1 Favourite Idea Will Double Your Generosity!
Give to 365give!  Every donation received until December 31 with be generously matched by The West Vancouver Foundation!  Every $5 donation gives us the ability to keep our programs free for everyone! Our volunteers work tirelessly to be a force for good in our world and we need your support to Teach, Inspire and Empower (TIE) youth to be the force of good for our tomorrow. Click here to give right now!
Here are more ideas to get you giving with radical generosity starting today! Let's make GivingTuesday 365 days and part of every day!  Make GivingTuesday Every Tuesday Without Breaking the Bank