How Giving and Gratitude will Increase Your Heart Health this Thanksgiving Holiday
The holiday season is fast approaching for many around the world and yes – its true – giving and gratitude are your key to increasing your heart health!  Thanksgiving is the first big celebration in the United States and it is a time to be with friends and family and be grateful for all the blessings in your life.  This is a great time to start your giving and gratitude practice to make a positive impact on you and those around you this holiday.
Holidays are Stressful
Big celebrations are often joined with big stress for millions of people. Maybe a few of these questions may resonate with you:
How do I afford gifts, food, decorations and so much more?
How do I find the time and energy to bring it all together just like the photos on Instagram????
How do I balance my health with so much food and sweets?
How can I avoid feeling overwhelmed and anxious?
A lot to think about. And we need to have strategies and tools in place now so we can deal with the stress as it comes our way. It's time to put on some rose-coloured glasses and see your life through a new lens.

Attitude of Gratitude
You can get started today with the attitude of gratitude and the action of giving. We can turn on our "good feelings" switch to reduce our stress and feel happier every day. Here are two simple strategies to get those good feelings flowing:
A simple gratitude practice in the morning and at bedtime will help you see all the blessings in your life.
Give every day. Just a few minutes each day to give something small – even a smile – will turn on a happiness switch and make you feel good all day long.
By starting a practice of giving and gratitude now, you will increase your happiness before the stress of the holidays hit.
HeartMath Institute
I personally had the honour to sit down with one of the leading experts on heart health, Deborah Rozman, who is the founding director of the HeartMath Institute.
The HeartMath Institute is helping people bring their physical, mental and emotional systems into balanced alignment with their heart's intuitive guidance. This unfolds the path for becoming heart-empowered individuals who choose the way of love, which they demonstrate through compassionate care for the well-being of themselves, others, and our planet.
"Gratitude is so much more than a nice gesture. It's actually a very powerful heart quality and can stimulate the feel-good pathways in your brain and it's an effective stress-reliever," Deborah Rozman.
I invite you to listen to my recent interview with Deborah Rozman, the host of the Add Heart Podcast. In this episode, we talk about the how we can amplify the power of gratitude. (Find the episode here). The Add Heart Podcast is also available on many Podcast sites like Apple Podcast, Google Podcast, Sticker Spotify, etc. I hope our discussion inspires you to start giving and practice gratitude today!
Scientific Proof
Just in case you aren't sure yet if an attitude of gratitude is good for you heart, here are 6 scientifically proven reasons that may just surprise you.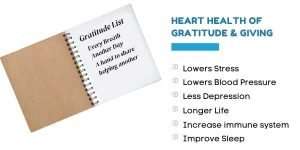 The best day to start a new practice is today. Giving and gratitude go such a long way to helping decrease stress and increase your heart health.  wait until the stress of the holiday season is in full swing! Get started and let your own feeling tell you how good your overflowing heart feels.
We have so many ideas for you for the holiday season. Get started with this Reverse Advent Calendar – 31 days of giving that will get your heart pumping with love!
If you liked this article and the work we do in the world to create a happier, healthier world for everyone, consider making you daily give to 365give. We are a small but mighty charity that is fuelled by the dedication and love of our volunteers. We are all doing what we can to change the world each day.
We have received a grant from The West Vancouver Foundation that will match every dollar donated until December 31, 2022! We have a big goal but with your help we can teach, inspire, and empower more people around the world to give.  It's how we can change everything when we come together as a global family to be the change our world needs.  Click here to donate right now! Our gratitude is overflowing for any size of donation.