Day 27: One Dime at a Time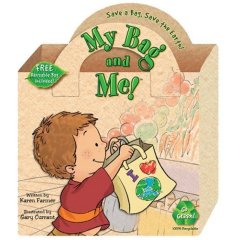 As I mentioned in a recent post one of my many jobs in our family is to grocery shop. I think I am in the grocery store approximately every other day. This post isn't about food, it's about bags. When my son turned 1 year old, he received this great book called My Bag and Me. and it's is one of his favourites. It teaches a child how to save the planet one bag at a time. It teaches them to bring a reusable bag into a store (provided in the book) so we don't use a plastic bag.
Do you have any idea what plastic garbage bags do to our oceans alone. An organization called Reuseit it has some eye opening facts on the effects of plastic bags on our earth.
Did you know there is a "plastic island" off the west coast of California. The currents swirl in just the right way and accumulate all the bags in one area now the size of Texas! 3,960,000 pounds of plastic bags were produced last year and 90% are discarded. Where did they all go to?
One of the grocery stores we shop at weekly is Whole Foods. This store has a bag program that encourages you to bring your own bags and encourages you to donate to their in house program is called One Dime at a Time.
"Whole Foods Market offers 10¢ per bag to customers who reuse their own bags. Customers can accept their refund, or direct the cashier to donate the cash to the store's chosen non-profit – through the One Dime at a Time (ODAAT) program. This program reduces our impact on the environment & supports a local nonprofit."
GIVE 27 / Day 27
The GIVE of the day is a donation made to Harvest Project because I brought my own bags to Whole Foods. Through their "One Dime at A Time" bag program I was able to choose to get a refund of a dime off my bill per bag I used or donate that dime(s) to one of three local charities.  I brought in and used 4 of my own bags today therefore making a 40 cent donation.
A quick calculation:
6 bags a weeks on average used at Whole Foods
60 cents a week x 52 weeks = $31.20
Not a lot of money from one person but multiply that by 1000 customers that go into the store every week and together we have now made a donation of $31,200 this year.
The additional bonus: 312,000 bags that will not be floating around the ocean from one store alone!
Time Commitment: 0  Cost: 0